Is Kalani Faagata Moving On with a New Love Interest? 💞🔍
90 Day Fiancé star Kalani Faagata has fans talking as she seems to hint at a new man in her life, amid rumors of estranged husband Asuelu Pulaa's cheating scandal. With a mysterious tattooed hand repeatedly appearing in her Instagram stories and a cryptic response to questions about her relationship, fans can't help but wonder if Kalani has found love again and is ready to move on from her tumultuous relationship with Asuelu. Credit: Mac.and.Chisme & rewatchreality.
Asuelu's Alleged Cheating: Was He Unfaithful to Kalani? 💔🕵️
Asuelu Pulaa finds himself at the center of cheating controversy during his scandalous outing with Winter Everett. We broke the news, with receipts here. Photos and videos of Asuelu and Winter getting cozy at a club have fueled speculation about the state of his marriage with Kalani. While Asuelu has denied the allegations, Winter remains cryptic about their rumored romance, leaving fans questioning the couple's future.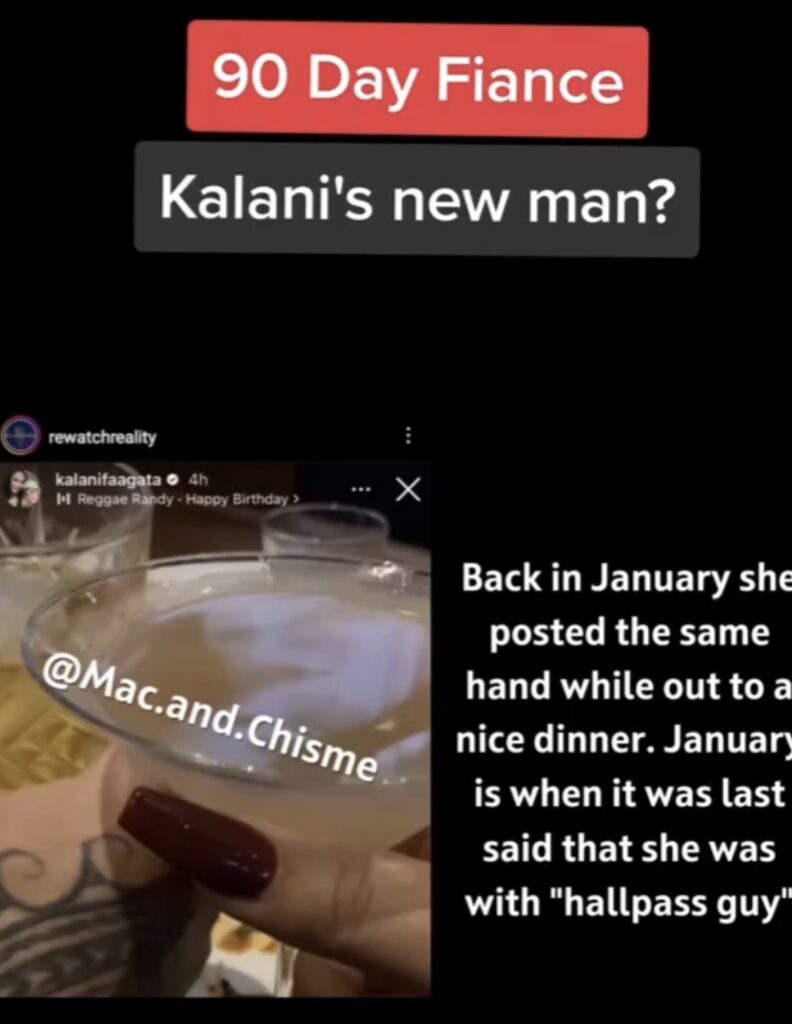 Kalani's Mysterious Instagram Hints: A New Love Blossoming? 🌹💕
As rumors continue to circulate about her relationship, Kalani has dropped several intriguing hints on her Instagram, including a picture of a bouquet of red and white roses accompanied by a love song playing in the background. With her recent posts featuring the enigmatic tattooed hand of a possible new man, fans can't help but speculate whether she's finally moving on from Asuelu.
90 Day Fiancé Spinoff: Kalani & Asuelu to Tackle Their Issues On-Screen 🎥💥
Despite the rumors of their separation and potential new relationships, Kalani and Asuelu were spotted together in January 2023 filming for a new 90 Day Fiancé spinoff centered around couples therapy. The upcoming show, similar to Marriage Boot Camp, will feature couples working on their issues with professional help. Fans are eager to see if this therapy retreat can mend their strained relationship or confirm the end of their marriage.
As the drama between Kalani and Asuelu unfolds, fans remain glued to their screens, eagerly awaiting updates on their favorite 90 Day Fiancé couple. Will the pair manage to resolve their issues, or will they ultimately go their separate ways? Only time will tell.