Mike and Natalie split after only being married less than one year. Uncle Beau has confirmed this new information to In Touch.
According to Uncle Beau, she has not been home for a couple months and she can stay away for all he cares. Wow. That sounds pretty harsh, I wonder what went so wrong between 90 Day Fiance's Mike Youngquist and Natalie Mordovtseva?
When he was asked if he thought Mike and Natalie's relationship was done for good, Uncle Beau responded by saying, "I'm really hoping so. I pray to God, yes." I didn't think Uncle Beau could be so blunt, I'm thinking he had enough of this couple's drama.
When the pair returned for season 8 of 90 Day Fiance, it was clear that they had a lot of work to do in their relationship. They did not get along and it seemed no matter what Mike did, Natalie just wasn't going to be happy. Also, it looked like no matter how hard Natalie pushsed to get married, Mike was not having it.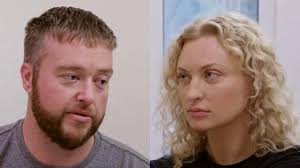 When Mike finally said yes to the wedding, he turns around and cancels it at the last minute (not cool Mike), Natalie packs all her things to get ready to return home after the unexpected heartbreak. According to a sneak peak of an upcoming episode, apparently Natalie has issues with Mike's credit card and is forced to go back to his home. When she returns, they have a day to decide if they should fix things and get married.
From what I gather, they did get married during Natalie's last day on her visa. Now it is being revealed that their marriage sadly did not last and Mike and Natalie split after less than 1 year officially married.